Crowd Cow offered me a free sample of their products to review. Always one for trying antother meat delivery service, I eagerly agreed to give it a shot. I received a box filled with a wide variety of some of Crowd Cow's offerings ranging from ground beef, to steak, to chicken, and seafood. They offer one-time purchase options for customers as well as subscription memberships that come with discounts for their quality products.
Please note that this is a sponsored post with embedded affiliate links that may result in Home Is A Kitchen receiving compensation for purchases readers make after clicking the links in this post. While use of the links in this post are more than welcome as a show of support for Home Is A Kitchen, readers should feel free to visit Crowd Cow however they like. 
Packaging
A typical cardboard box arrived and inside it had a biodegradable liner with plastic bags of dry ice to keep everything cold. All of the meat and seafood arrived perfectly frozen, which I found as a definite plus considering issues that can arise from unintentionally thawed food. A note in the box on some of the packaging says that the shipment it is carbon neutral.
The box is eco-friendly because it and the plastic are recyclable (at the right facilities of course) and the liner is biodegradable so it can go in your garden, dissolve in water, or can be used as starter material for grills or fires. I also had a lot of fun pretending I was brewing potions in a bubbly cauldron with the dry ice (although I caution safety first!). In and of itself, the packaging is not exactly carbon neutral, however Crowd Cow explains that they offset the carbon footprint of dliveries a variety of ways such as funding projects that remove or avoid greenhouse gases and working with the Arbor Day Foundation to reforest as well as protecting existing forests. You can read more about it on their blog.
Chicken
Crowd Cow offers pasture raised and organic free range chicken. There are many definitions for how chicken is raised and Crowd Cow doesn't hide behind the obscure language. The pasture raised chickens are chicken that roam free outdoors and forage with access to shelter. While the organic free range chickens aren't necessarily exclusively outdoors, but do have access to the outdoors. 
A lot of people groan about chicken breast and how it's often tough or dry. In my package, I received two very large chicken breasts that I used to make two meals. At first I simply seared and cooked some of the chicken breast in a pan after fileting one thick piece in half. My goal was to just try the chicken as it was with just a little salt and pepper. That way I could gauge the quality and flavor. 
Even as I sliced the chicken, I knew immediately that the chicken was high quality. It wasn't stringy or tough. The first juicy and tender bite convinced me of what I suspected. I really enjoyed the chicken even with no frills and I'd be happy just grilling it.
My wife used the rest of the chicken in a curry that she slow simmered. The chicken worked perfectly there too. The simmered chicken breast wasn't dry or tough and contributed excellent chicken flavor to the robust curry. 
Burgers
I've been burned by ground beef claiming the status and origin of Wagyu beef. I was skeptical about the ground beef I received, but I shouldn't have been. The rich, fatty, ground beef made excellent burgers. All I did was form patties seasoned with salt and pepper. I grilled them and made double cheeseburgers. The patties tasted great and provided a "beefiness" that only comes from quality beef. The best part is that the price at Crowd Cow for cross-bred Wagyu or full-blooded Wagyu is pretty reasonable. 
Steak
Ok, steak-lovers, get excited. Crowd Cow offers many different kinds of steak including pasture raised Wagyu, A5 Japanese Wagyu (!) as well as 100% grass fed beef and pasture raised, grain finished beef. I'd love to have gotten a sample of one of those Wagyu bad boys (wink wink), but I was happy to get samples of the pasture raised NY Strip and beef tenderloin tips.  
Admittedly, NY Strips are one of my least favorite steaks. Not so much because of their flavor, but because they're not very forgiving due to how lean they are and it's very easy to overcook them resulting in a tough steak. I did end up overcooking my NY Strip a bit, but it didn't matter. The steak came out very tender and juicy. It legitimately made me reconsider my stance on NY Strips! I really enjoyed the steak and would happily have it again. 
A first for me, I got to try tenderloin tips. I grilled them simply and noticed that they have the convenience of sirloin tips, but the lighter, leaner beefy flavor of beef tenderloin. True to the name the beef was so tender I could have cut it with a spoon. Very nice. 
Seafood
Last, but not least, I received two pieces of fish from Crowd Cow. A large piece of salmon and a piece of black cod gave me a sense of the quality of seafood offered. Crowd Cow sources its seafood from all over the world with a mixture of farmed and wild caught fish. All of it, however, is sustainably sourced.
Each filet of fish had the skin on, so I decided to cook them skin side down in a pan. That way I could try the fish simply while still maximizing the flavor and retaining moisture. I prepared the salmon with a Japanese style tare marinade and served it over some ramen noodles with a mushrooms and scallion flavored broth. I don't really like cooked salmon, but even I found the flavor and texture of this salmon very tasty.
For the black cod, I created a dill aioli as a marinade and served it over crispy French fries topped with fried onions for a  take on fish and chips. The tender cod came out beautifully and provided just the right amount of seasoning for the crispy fries below it. 
Overall Impression
I have to say that without a doubt I was very impressed with the quality of Crowd Cow's meats and seafood. Everything I prepared came out wonderfully and I would definitely consider ordering from Crowd Cow in the future. 
I especially like the company's commitment to sustainable and eco friendly options. Anything that isn't 100% local will never be perfect, but it's nice to at least to see companies trying. I would very much recommend Crowd Cow for anyone seeking a quality meat and/or seafood delivery service whether for one-time purchases or subscription membership.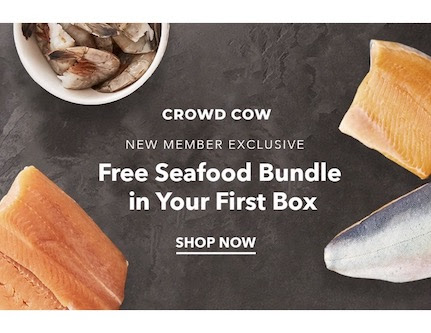 This post is a sponsored and paid partnership with Crowd Cow. All opinions, however, are honest and come directly from Home Is A Kitchen after sampling and researching the products. Embedded affiliate links may result in Home Is A Kitchen receiving compensation for purchases made from users clicking the links in this post. 
_______________________________
No spam. Just real updates on recipes, restaurant reviews, travel, and free giveaways!
_______________________________
Copyright © 2021 Home Is A Kitchen. All Rights Reserved. The content on this page is owned and written by Home Is A Kitchen (www.homeisakitchen.com). Duplication or use of this content without permission is prohibited. The presence of this content on any other site is a violation of this Copyright. For permission requests to use some or all of this content, use the contact form in the "About" section.